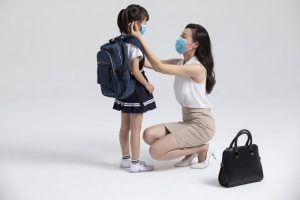 Motherhood is hard, but motherhood during a pandemic must be at least 1000x harder! On a good day, moms are already overwhelmed with 754 things to do, 421 places to be, and about a million things to think about. When the COVID-19 pandemic hit in early 2020, a lot of people said that 'the world stopped'. That's true in some ways, but for moms all around the globe, kids stayed home from school and daycare, and life suddenly became much, much busier. Goodbye routine, hello uncertainty! It became so much harder to find a spare minute for yourself. Any space you may have had from your children likely disappeared overnight.
I happened to find this incredible resource put together by some mom-led companies, Kuli Kuli, Sylvatex, and Uncommon Cacao. The companies collaborated with several universities: University of California campuses at San Francisco, Berkeley, and Los Angeles, as well as Northeastern University. In an attempt to understand the way the pandemic affected moms, the team surveyed over 1,000 mothers across all 50 states who worked throughout COVID-19. Here were their top findings, with some of my thoughts underneath each:
"With loss of childcare and the ongoing prevalence of traditional gender norms, many moms became the 'default parent,' shouldering the large majority of childcare and domestic burdens."
This is often true for women and mothers: when things get busy, moms are expected to drop their work commitments and shoulder the burden for others. While some moms are perfectly happy shifting their priorities to be entirely focused on childcare, others are not. Many moms don't feel they have a real choice and often they, in fact, do not. Moms just do the work that nobody else is prepared to do.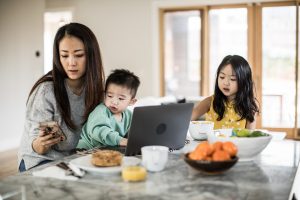 "As we enter year three of the pandemic, working moms are at breaking point. More than a fifth of working moms (23%) have no time for self-care, including healthy eating, exercise, or connecting with friends. Fifty-three percent of working moms are getting less than 6 hours of sleep per night (7-9 hours is recommended)."
For MANY of us, self-care tends to fall by the wayside even though it's really important! This finding suggests that 23% of working moms in the US have had a particularly hard time creating space to eat healthy, exercise, and connect with friends. I also find the sleep finding particularly worrisome! More than HALF of America's working moms are getting substantially less sleep than is recommended by medical professionals. It also made me wonder if the quality of the sleep moms do get is actually healthy. 
"Many moms experienced increased discrimination in the workplace as they struggled to balance the work and home responsibilities that they disproportionately shouldered." 
As if women didn't already experience enough discrimination in the workplace before the pandemic! You can't fall short as a mom, but you can't always meet all of your work demands either. How often are men fighting this battle? Moms seem to be experiencing it more often than dads.
"Working moms with flexible, remote jobs, and empathetic employers stayed in the workforce, with 79% of moms saying they prefer remote work. Enabling flexible hours and paid time off are the top two things employers can do to keep moms in the workforce. 55 percent of moms said that spending more time with their children was one of the silver linings of the pandemic."
I've written about motherhood and careers before. Part of the finding above makes me feel slightly more hopeful that we are moving toward change! As a result of the pandemic, it seems that some employers are becoming more sensitive to people's individual needs and circumstances. If 79% of working moms have said they prefer remote work, that means 79% of working moms are providing a clear solution to the problem(s) that so many of them are facing! Let's hope that employers respond.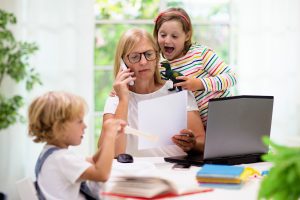 Overall, being a mom is a wonderful responsibility, but it's also really hard, and it's been made especially hard in light of recent world events. There are things you can do for yourself even during such a difficult time! Here are some ideas:
You can work to become a stronger advocate for yourself at work and improve your boundary-setting skills 

Try to find one or two things you take off that "To Do" list and maybe:

Go to bed a few minutes earlier

Take a short walk

Watch that mind-numbing TV show and just check out

Start a mom support group where you trade child care for even just a few hours

Reach out for support to friends and families
If you're like the clear majority of America's working moms and you've been struggling with any of the things mentioned here throughout the pandemic (or anything else, for that matter, with which you think I can help!) , please reach out!