Sports Moms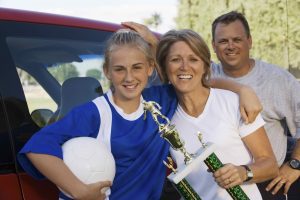 For most sports moms, sports dominated your life for years. Driving for hours. Planning snacks. Working hard to pay for everything they need. Juggling the calendar to attend every game. Finally, the day comes when your child is old enough to navigate the sports world on their own. It is exciting but also scary. As a lifelong sports mom, suddenly you won't be right there to help anymore. It wasn't too long ago that I had to make that leap myself. 
There are so many benefits to participating in collegiate sports, but there are many common problems that are rarely discussed. Of course, coaches and schools don't advertise these downsides of the student-athlete experience. You don't hear about them during recruitment. Most moms are unaware of this side of the collegiate athlete experience until a crisis hits. With IGNITE, you can acquire tools to help your child navigate the many challenges involved with high-level athletics and collegiate sports. 
Learn about the realities of the: 
coach and student-athlete relationship,

coach and parent relationship,

interpersonal dynamics of the collegiate recruiting process, and

common pressures and risks that collegiate student-athletes encounter.