There's a LOT of junk out there in the coaching world – empty promises, false claims, glitzy marketing – but there is also a TON of excellent evidence-based strategies that science suggests are effective. And, unfortunately, it's NOT always easy to tell the difference! 
IGNITE is built on evidence-based techniques, which is why I say I 'use science to IGNITE change.' My newest blog category, 'Research Revelations', will summarize peer-review findings to make research about coaching accessible and fun to read! This week, I'll discuss a peer-reviewed study that supports the efficacy of some of my typical coaching practices.
In 1998, the field of 'positive psychology' was born during Dr. Martin Seligman's presidential address to the American Psychological Association. Positive psychology aims to design interventions that enhance individuals' reports of well-being and often takes the form of stand-alone, self-administered activities like journaling. Two years later, the field of 'coaching psychology', which uses an interactive model that facilitates collaboration between coach and client, entered the scene in Australia and England.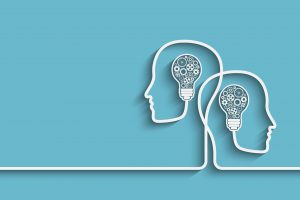 This year, in the Journal of Positive Psychology, an article was published called "Coaching psychology interventions vs. positive psychology interventions: The measurable benefits of a coaching relationship" by Drs. Anthony Grant and Ofer Atad. The authors of this paper wanted to know: what are the specific ways that clients benefit from the collaborative model of coaching compared to the individual setting of positive psychology?
To answer this question, the researchers arranged three courses in different areas of psychology: positive psychology, coaching psychology, and organizational psychology (as a control condition). Next, 393 MBA students were randomly assigned to each course 'condition'. All students filled out extensive psychological questionnaires to measure their goal attainment, well-being, self-insight, and psychopathology (i.e., depression, anxiety, stress).
Then, all students participated in their courses for 1.5 hours a week for 13 weeks. The students learned the theories underlying their courses (i.e., positive, coaching, and organizational psychology), implemented strategies from the courses in their lives, and participated in 45-60 minute 'interventions'. Each week, those in positive psychology participated in 45-60 minute journaling exercises, while coaching students underwent peer coaching for 45-60 minutes. After the courses were complete, all students filled out the same psychological questionnaires they completed before the course. This allowed the researchers to compare changes in students' outcomes before and after their courses in either positive psychology, coaching psychology, or organizational psychology.
Unsurprisingly because it was the control condition, there were no improvements to students' goal attainment, well-being, self-insight, or psychopathology after undertaking the course in organizational psychology. Participants in the positive and coaching psychology courses both reported a significant increase in well-being and a decrease in psychopathology. However, only those in the coaching group reported an increase in goal attainment and self-insight. So, while both the positive psychology and coaching psychology interventions helped people feel healthier overall, only coaching helped people achieve their goals and better understand their own thoughts, feelings, and behaviors. 
Ultimately, both positive psychology and coaching psychology were deemed effective. I use both when working with clients. There are many great interventions in positive psychology that clients can incorporate in their lives. After practicing as both a coach and a psychologist for over 30 years, I have no doubt that the coach-client connection is essential. I was pleased to learn that the evidence shows that the collaborative coach-client relationship is particularly important for clients committed to both understanding themselves better and achieving their goals!