Max Verstappen is the Formula One champion of the world. I know there's been a lot of contention about the race, but as I haven't been an F1 fan for very long and am certainly no rules expert, I simply enjoyed watching the intense competition. Verstappen's victory was truly incredible, but I was amazed by the mental strength of the two top drivers: Lewis Hamilton and Max Verstappen.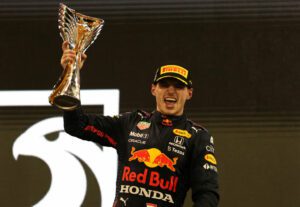 For those who may not follow it closely, Hamilton and Verstappen have been going head-to-head all season in a tight competition for the title of F1 World Champion. Hamilton is considered one of the best racing drivers of all time. He's currently tied for first (with Michael Schumacher) for the most world championship titles in the sport. He holds the record for the most F1 wins, most F1 pole positions, and most F1 podium finishes. Put simply, he's proven he's a winner. He'd also won SEVEN world championships. Verstappen, on the other hand, is an emerging talent. Verstappen signed with his first F1 team at just 17-years-old, which made him the youngest F1 driver in history. He's proven himself a fierce competitor ever since. But would the young Verstappen be able to defeat Hamilton, the seven-time titleholder? Very few thought he could.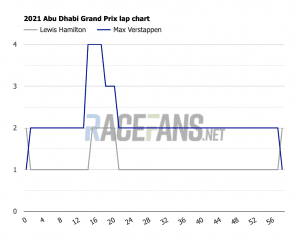 Last weekend was the final race of the season. Hamilton and Verstappen were tied. Whoever won this race was going to win the world championship. The Abu Dhabi race was 58 laps. For 51 of them, Hamilton was in the lead. Most of the time, he was in the lead by a LOT. Check out this graph, which shows Hamilton in silver and Verstappen in blue. The x-axis shows the laps, the y-axis shows the places. Verstappen started in pole position (1st) after winning qualifiers the day before. Hamilton started in second. But not even halfway into the first lap, he pulled into first. Verstappen fought as hard as he could for the subsequent 57 laps, but he didn't ever really come close to Hamilton. Until Latifi of Williams crashed out (but was fine!) and prompted a safety car to clear off the debris. The racers were permitted to race again for the final lap. In those last miles, Verstappen somehow managed to pass Hamilton. That's the little, tiny swap of colors in lap 58. (Data from this website.)
Background aside, I have some thoughts about what it took Verstappen to pull this off. Any of these drivers could teach us all a thing or two about breathwork. Imagine racing at speeds upwards of 200 miles per hour around hairpin corners with nineteen other drivers. This source quotes F1 driver Nico Rosberg saying, "I learnt some things from over the winter, for example, my breathing was something I could work on in the race car….When we go through fast corners we hold our breath because there's so much G-force and you can't really breathe properly so I tried to work on that a little bit in the winter."
All of these drivers also need laser-sharp concentration to stay in the present. Verstappen had a severe leg cramp during the final lap, but I doubt he focused on that. This source says, "Every lap, [F1 drivers] need maximum concentration. You need to focus 100%, so everything influencing your life must be in the right place and there can be nothing disturbing your mind." I would guess most drivers use imagery and mental rehearsal consistently. Ferrari's Charles Leclerc says, "I've grown a lot mentally over the last few years….There are many techniques that can be used; I personally like the one of picturing the perfect lap in my head, especially before qualifying. I do this often because it really helps. When I'm not in the car this imagery helps me hugely to be fully concentrated and readapt to the car quicker."
This weekend, winning took every ounce of mental strength from Verstappen. I'm sure Verstappen's victory took everything out of him. But what about Hamilton? For the majority of that race, it looked inevitable that he would win. In that last lap, that tiny little blip of color on the chart, it was all taken away from him. Despite that, he stood up in front of the cameras and congratulated Verstappen. He shook his hand. I have no doubt that Hamilton, who is also the definition of a champion, will come back to win more races.