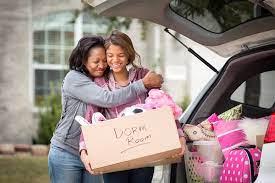 As children grow up and leave the nest, moms often find themselves feeling a little lost and unsure of how to fill their newfound free time. Whether they are struggling with their next career steps or just missing their child one thing is for sure – new empty-nester moms can benefit from a little support! If you have friends or family members who are facing this transition, a thoughtful gift can help them make the most of their new chapter in life. Here is my ultimate list of empty nester gifts!
One idea is to give the

gift of relaxation

. After years of raising children and running a household, empty-nester moms may be in need of some rest and relaxation. It's also probably difficult for them to take a break and really focus on themselves after spending most of their lives meeting the needs of others. A gift certificate for a spa day or a massage can help them unwind and recharge, and it's probably not something they'd buy themselves, which makes it a great gift.

Another idea is to give the

gift of travel

. With the kids out of the house, empty nesters may have more freedom and flexibility to explore the world. Consider giving them a gift card for a travel website or a guidebook to a destination they've always wanted to visit. These days, you may even be able to find enough refundable options to help them start their concrete plans by gifting them a room at a specific hotel (that they can change if they'd like)! 

Why not give the gift of coaching? One of my areas of specialty is helping moms who are

embarking on the empty nest adventure

. I offer online, flexible, one-to-one, and group coaching that would make a great gift. Feel free to read more

about me

or

contact

me if you want to learn about what I offer! 

For the empty nesters moms who are feeling a little nostalgic, a thoughtful gift can help them relive some of their favorite memories. A

photo album

filled with pictures of their children growing up or a sentimental piece of jewelry can help them remember those special moments with their kids!
No matter what gift you choose, the most important thing is to show your support and love for the empty nester moms in your life. They've raised their children and built a home, and now it's time for them to focus on themselves and their own happiness. A thoughtful gift can help them do just that.