Over the last few years, students across America have transitioned from online to in-person learning (and, sometimes, back to online again). As our children return to their classrooms, however, they are not only adjusting to new rules about mask-wearing and hand washing. They're also re-adjusting to norms for behavior in the classroom – including hidden messages about what is "normal" for girls and boys to do. 
I studied the impact of gender norms back in 1982, and it's remained part of my work ever since. To be consistent with the studies I'm citing, I'm going to use binary terminology throughout this blog, but it's important to note that gender isn't binary. It's not just "man/woman" or "girl/boy." Gender occupies a spectrum, and it's important that future research be inclusive.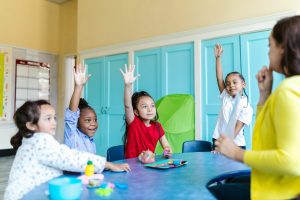 Nearly two decades ago, researchers in the UK found that teachers tend to devote attention unevenly along gender lines: boys receive more attention from their teachers than girls do for both positive and negative behavior. Given that, as a professional coach, I focus on using science to ignite change for women and mothers, I began wondering how things look in classrooms today. 
A 2018 collaboration between researchers at the Inter-American Development Bank, the University of Virginia, and the University of Michigan found that even today, teachers tend to pay more attention to boys than to girls, a phenomenon called the "gender attention gap". After collecting almost 600 hours of videotapes in fourth-grade classrooms in Chile, they analyzed how often teachers interacted with their students, whether that was praise, criticism, or calling on them by name. The research not onlly showed that teachers' attention favored boys in every type of interaction but also found that classrooms with larger gender attention gaps, where teachers paid more attention to boys than girls, had girls scoring lower in math.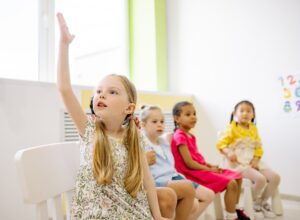 The authors suggest that over time, these gaps may keep widening. As a result, girls receive less and less attention from teachers–which may undermine their confidence in their academic abilities. Though this study was done in Chile, other recent studies have found the gender attention gap persists across the globe, including in the US, France, Israel, and China.
There is still a lot of room for researchers to learn how to help schools and their teachers close this gender gap! But for now, perhaps one place we can start as parents is to prepare our children–especially our daughters–about the implicit messages they are likely to receive in the classroom. We want to help girls be aware and be critical of the messages they're likely to get with the hope that the messages become less powerful in the process. Engaging in a dialogue about this sort of thing is a good first step. 
Like I wrote the other week, gendered messages are all around us: it's like the air we breathe. As we start to recognize how these gendered messages impact not only us as mothers but also our children, we might want to reflect on how we can empower ourselves to empower them. Working one-on-one with a professional coach who specializes in the impact of gender role expectations can help you as you navigate these challenges.
Contributor Statement: Melissa Santos ([email protected]) contributed to the research and writing of this blog. Melissa currently works as a psychology lab manager and is preparing to apply for graduate programs in child development.